CLYDE AND COMPANY ALLOWED CHARLOTTE PRITCHARD TO COMMIT LEGAL FRAUD.
Clyde and Co allowed Charlotte Pritchard (Manchester) to commit legal fraud by acting as though she was the estate's executor after the court-appointed James Beresford had left the company as a partner of BLM Law.
It is amazing what information can be gleaned from a SAR and it appears from the latest batch of released information from the botched legal ombudsman carried out by the Non-registered SRA past member Dawn Nicholson that Charlotte Pritchard was instructing estate agents when the court-appointed executor was no longer employed by Clyde and Company.
Moreover, Charlotte Pritchard never even contacted any of the beneficiaries of the estate she was in fact acting on the estate's behalf at 32 Hoole Road Chester.
Was this the main reason Clyde & Co point blank refused to give Dr. Jones any more SARs when he asked for them but was under the cosh to release this information when the Legal Ombudsman asked for it they had no choice?
Don't forget folk's Charlotte Pritchard is a no-one in the big old scheme of things at Clyde BLM Law but she was certainly a safe pair of hands that knew where all their past probate scam bodies were buried when Clyde merged with BLM they needed someone from the probate department that was expendable and cheap to offload if it got too hot in the kitchen of doggy dealings robbing little old people.
Only James Beresford was named as the estate's executor in released court documents, not Blm, not Clyde and Co, and certainly not Charlotte Pritchard.
So the document below clearly says and shows by its own admission that Charlotte Pritchard is working on her own and there's no reference to the official executor Mr. James Beresford that price fixing is taking place.
Four weeks earlier the firm BLM undertook a court undertook (injunction) to NOT sell the property below a few weeks later it goes on sale at cavendish Chester they wanted to sell it at 800k but they list it at 750k this email from Pritchard to drop it to 500k is ONLY 11 days after it was listed at 750k clear as day PRICE FIXING.
So Pritchard is all over this scam and Clyde and Co fully support her is it any wonder Clyde got rid of all the probate partners when the merger took place?
We NOW have 100% proof the that court injunction was a big fat lie which in turn means they had zero intention of selling it for the TOMLIN order of Dec 2019 which in turn would be contempt of court with premeditated actions from a Legal 500 Solicitor is it any wonder no-one trusts legal eagles in the UK.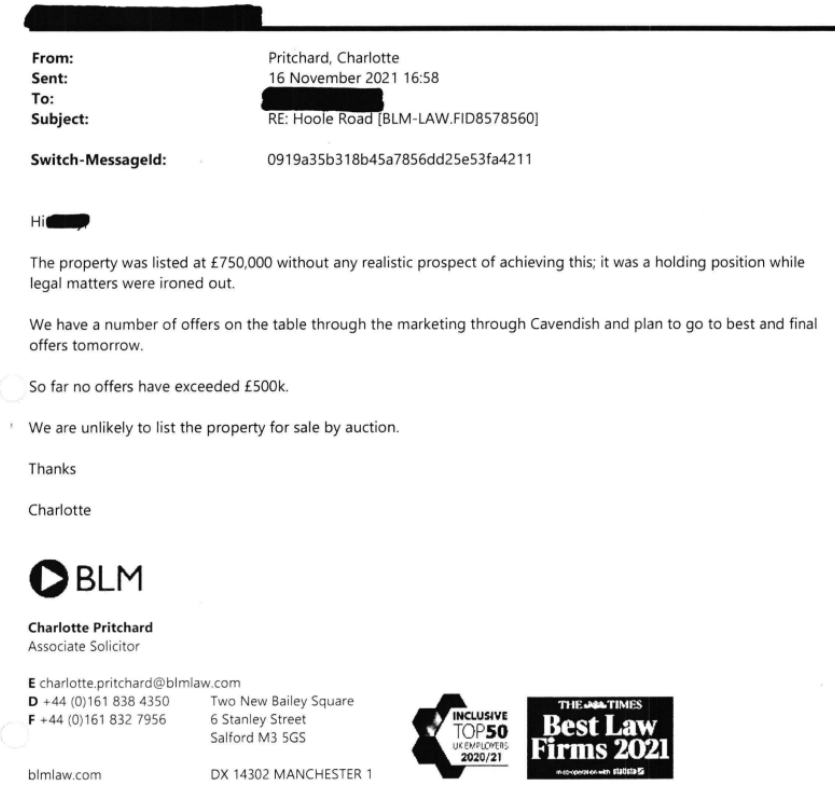 On the 18th of November 2021, the International Scotland website released this story that was only 2 days after the above-dated email
CAVENDISH RESIDENTIAL CHESTER LINKED TO PRICE FIXING SCAM. – International Scotland | Scottish Consumer Scams | Best Retailers Promoted.
More on this story HERE.